Client
Client
Czech Genealogical Society
Project description
The Czechoslovak Genealogical Society International ("CGSI") is a member-driven organization, dedicated to genealogical search for those of Czech descent.
The nonprofit's website connects members across the world through forums, events, products and other materials. But the site itself was dated and in need of an update, both in design and the tools used to manage the members and content online.
Paragraphs
CGSI sought a highly qualified digital agency with the experience and expertise needed to plan, design and develop their next website. 
Electric Citizen ("EC")  offered a history of successful partnerships with nonprofit organizations, as well as many years experience with CGSI's current CMS (Drupal). After some initial conversations and an initial round of project discovery, CGSI selected EC to lead the planning, design and development of the redesigned website.
The project had numerous technical requirements and challenges, including an ecommerce store, membership management, research archives, visual redesign and a large content migration.
The organization itself wanted improved technology to reduce their time spent managing site content, while continuing to attract and retain members.
The project began with a period of extensive project discovery. Our team reviewed a range of project goals and technical requirements, documenting the current site's features and data integrations. CGSI had a lot of functionality tied specifically to their existing CMS (Drupal 7), which was not easily transitioned to a different CMS or newer version of Drupal. Ecommerce, membership records, and CiviCRM integrations were just some of the challenges to resolve.
Multiple CMS options were considered, including WordPress and a React/Gatsby powered site before ultimately settling on Drupal 8. While every option had its pros and cons, staying within Drupal offered the greatest flexibility needed to create the kind of site that CGSI needed.
Once the CMS was settled, the rest of discovery centered around technical documentation and site building documentation. We explored user personas and identified pain points which needed attention. Branding was discussed and a new design direction generated. 
Content Strategy
The site navigation was reworked to make it easier for members and encourage new users to take action and join. A new "Why Join" section was recommended for the primary menu, where non-members can get a sense of what benefits and content a membership offers. A new "Resource" section places all the information and resources needed by members into one (password-protected) area. "Get Involved" was introduced as a primary link for support and volunteers.
We emphasized a simplified messaging strategy as well, leading the home page with a clear and concise message–"Research and connect with families from the Czech and Slovak ancestral lands."
Technical Architecture
CGSI had a number of technical requirements that required careful consideration, starting with a paid membership system. Members needed the ability to buy or renew memberships on the website, as well as gain access to various "members-only" areas of the site. The site also required a standard ecommerce store, and searchable archives.
Our technical team explored a number of options, including prebuilt membership and ecommerce options from WordPress and 3rd party systems before recommending Drupal 8. While the paid systems had a certain appeal, nothing was able to meet the custom needs of the client out of the box. Drupal's inherent flexibility and compatibility with the existing Drupal 7 site made this the right choice for the redesign.

The old site felt dated and old. The primary goals for the redesign was a fresh, easy-to-use design that still felt familiar to current users. We recommended emphasizing community (people, events, conferences) as a major differentiating factor from other genealogical sites. 
The dark, heavy color palette of the old site was replaced with a more neutral palette. Photos and accent colors were used to bring life and focus where needed. The color palette itself is based on the red, white and blue of the Czech flag.
Because quality images of members were in short supply (a common case), we recommended using what we could and supplementing with landscape images from the Czech Republic, as well as traditional Czech folk art.
Member images and testimonials are heavily featured as a way to reinforce community. Landing page content is separated into easily-scanned sections, with generous whitespace and shorter callouts to inform users.
All pages are responsive and mobile-ready, and meet the accessibility standards of WCAG 2.0.

All content, including membership records, media files, and products were migrated from the Drupal 7 to an updated version of Drupal.
There were four large data sets migrated, each containing over 6,000 records. The migration included profile data from over 12,000 users, along with years of comments and the contents of two member forums to migrate. All the store products (and product variations) were migrated, out of Drupal 7 and the older UberCart module, and into the newer Drupal Commerce in Drupal 8.
In addition to databases and content, over 50GB of client files also needed migrating! Our team migrated all of them off their old server and on to an inexpensive Amazon S3 server. This was then tied back to the new Drupal 8 install, hosted on Pantheon. In addition to changing physical location, files management was updated to take advantage of Drupal 8's core Media Library.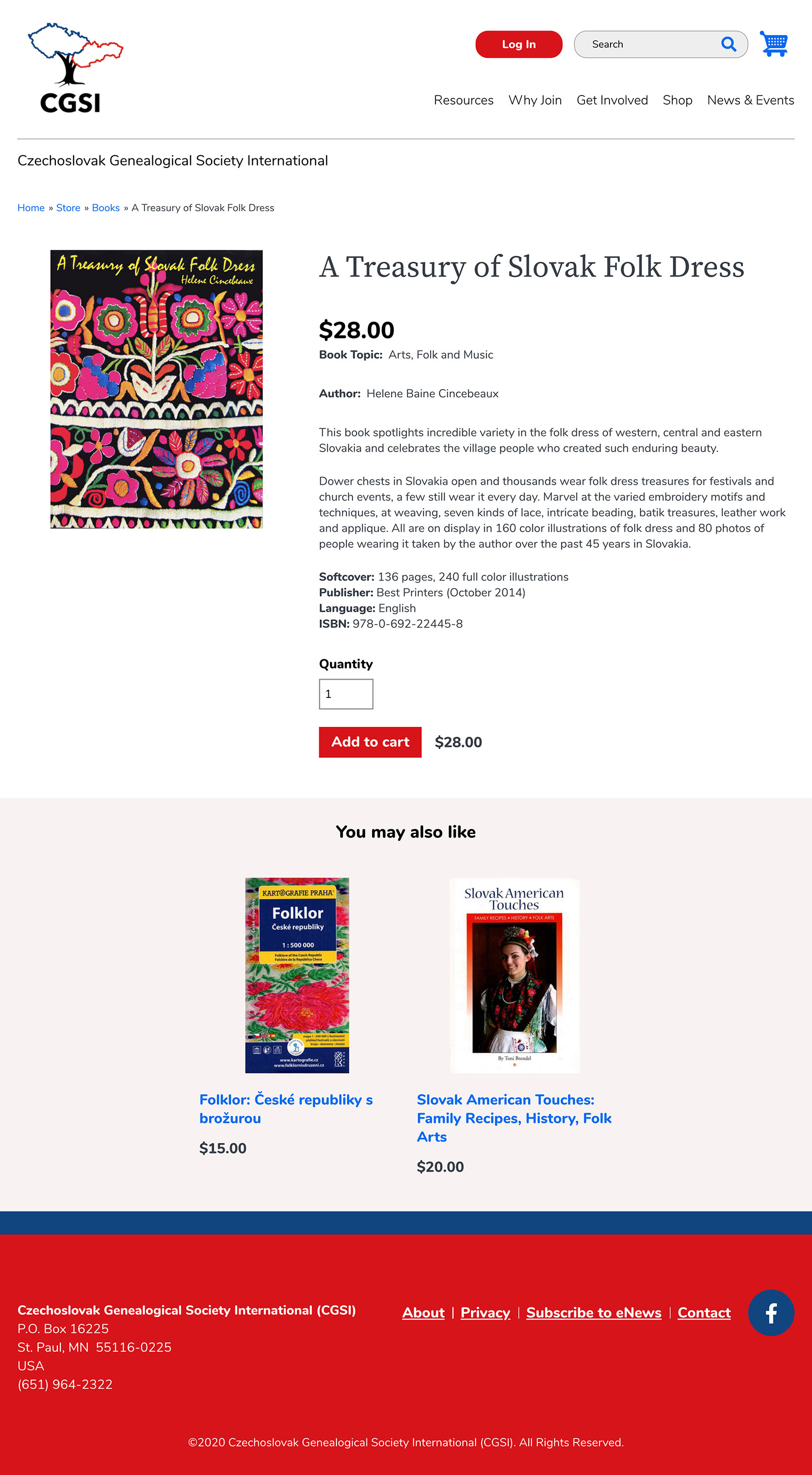 The new site relies on the suite of Drupal Commerce modules to handle online transactions. The site features a store selling everything from books and maps to shirts and other Czech-related products. Users can search by keyword and filter results by various categories. The site offers user accounts for purchases, secure checkout, shipping and automatic notifications.
Site membership costs are also handled by the same ecommerce tools.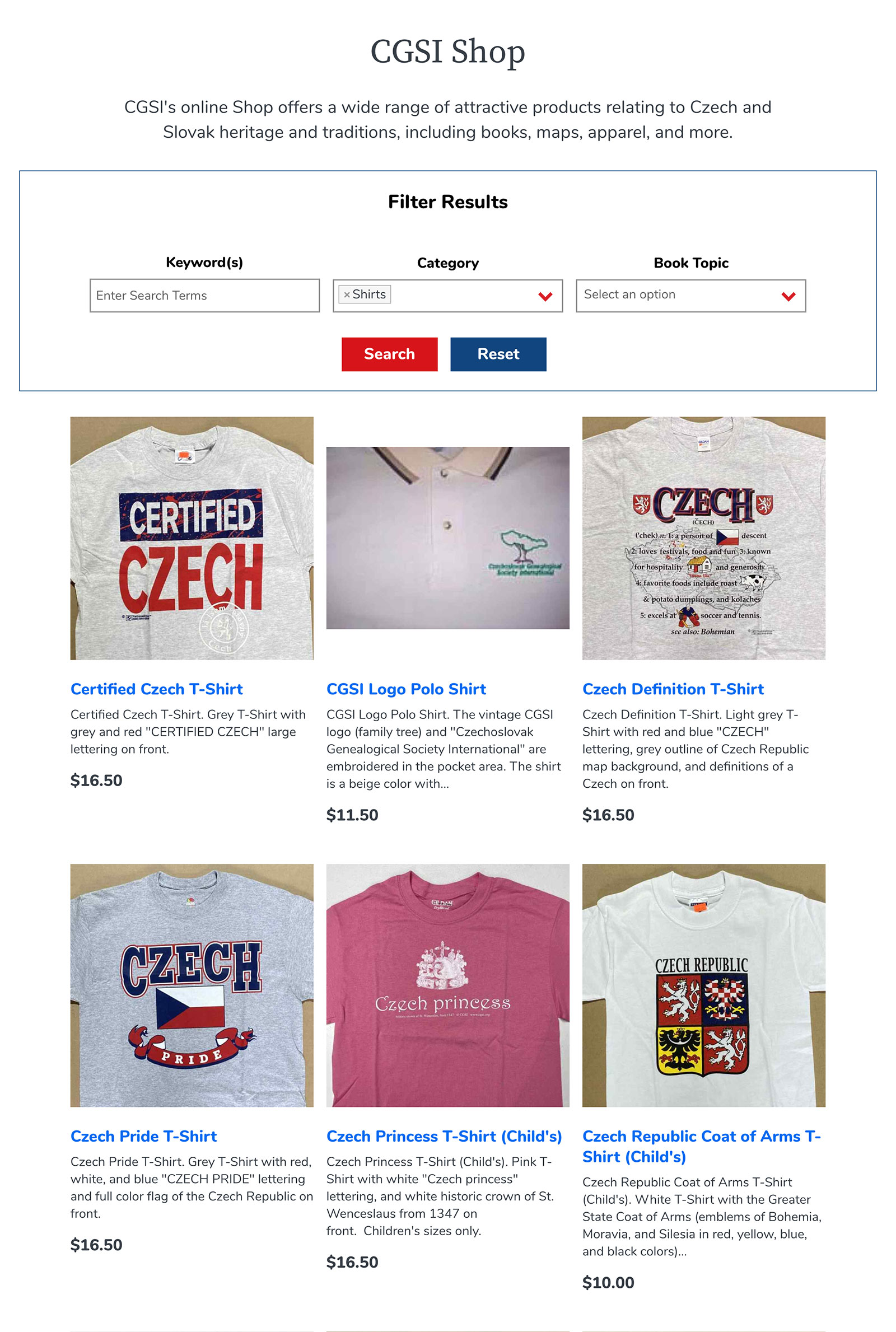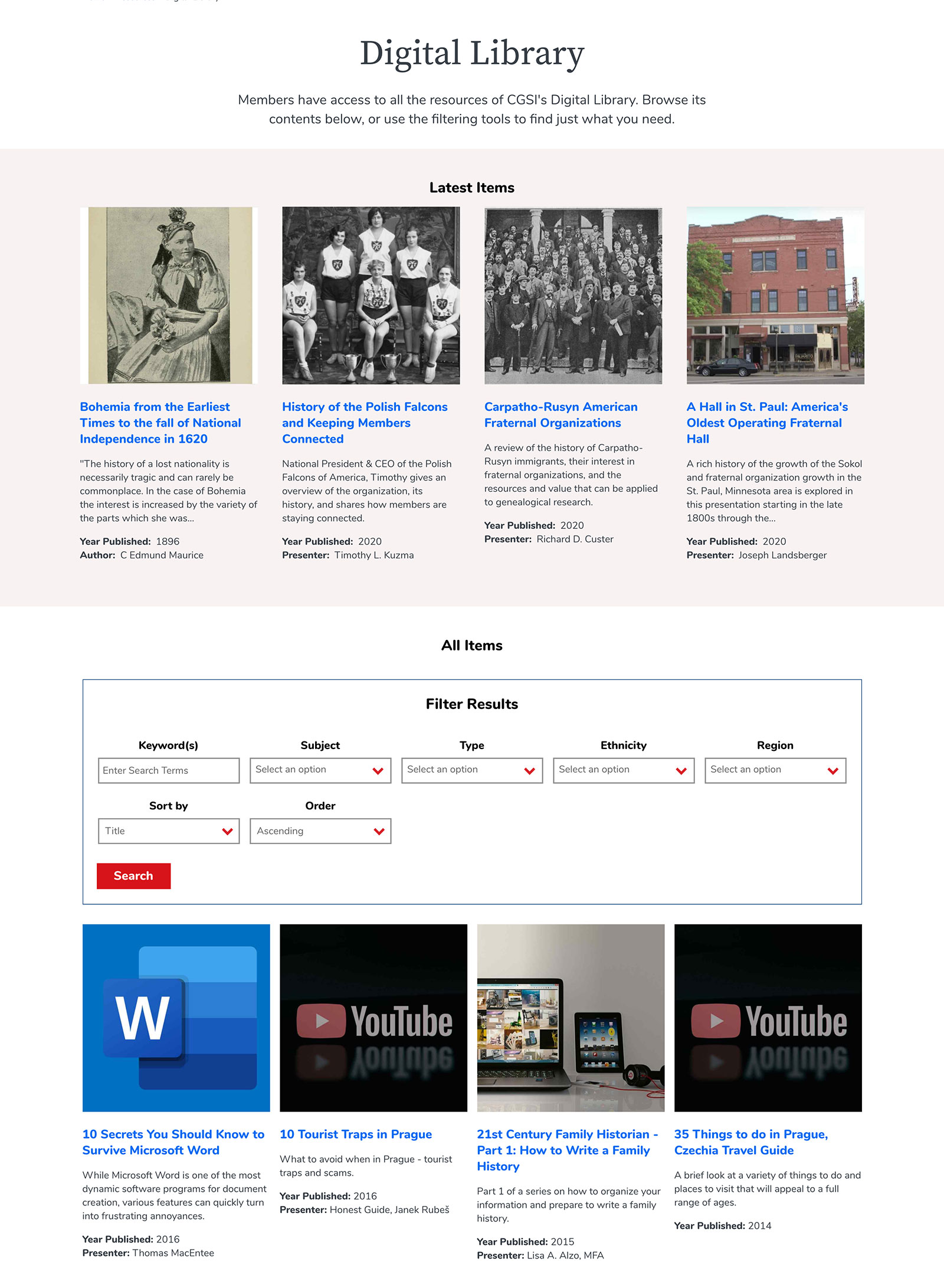 Member records were migrated from an external system (CiviCRM) into Drupal, where they are fully integrated into the new site database, and managed by the client. 
Users have the option to purchase recurring or one-time annual memberships, or purchase a gift membership for others. These purchases are handled by the primary site and its ecommerce capabilities. Recurring subscriptions are automatically billed annually. 
Only active members are granted access to an online library of resources. These include a Digital Library, Research Databases, and a Message Board. 
The Digital Library was built to allow site editors to add a variety of content, including video, journals, books, audio files, maps and articles. Members can search results, and filter by a variety of criteria (keyword, region, type, subject, etc.). The Message Board is an active online forum for conversations and connections. The Research Databases include searchable archives for genealogical research (surnames, immigration records, church records, etc.). 
The site launched in the fall of 2020, and immediately used by several thousand members around the world. The new site is responsive and accessible, with a fresh, clean design. Behind the scenes, CGSI editors and volunteers have a single system to manage everything–products, membership, research and site content.