Drupal
Powerful framework and content management system used around the world
Content management systems (CMS) power today's websites. The days of managing static HTML webpages from your desktop software are over. Even with the most basic CMS, site owners can edit site content without coding, upload images, add pages, and write articles. But that is just the tip of the iceberg,
The most advanced CMS functions as both a content editor and a framework, providing a strong base upon which users can build custom features and advanced functionality.
Drupal is our CMS
Electric Citizen is a Drupal shop — we have fully embraced Drupal as our CMS of choice, and utilize it on almost every site we build. We feel (and so do thousands of others) that Drupal is one of most advanced content management systems around, equally at home powering small sites to large, enterprise scale websites.
We like to explain to clients that Drupal is a like a big box of awesome Legos. It's not so much what it offers out of the box, but what we can build through it. Pretty much anything you can imagine can be done in the hands of experienced Drupal developers.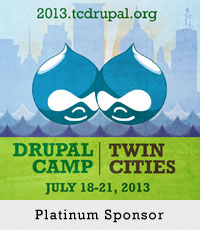 Why Drupal?
Open-source means there's no licensing fees or ongoing costs to use the software
Secure and up-to-date system, trusted on many of the biggest, more heavily trafficked sites around
Access to hundreds of free user-contributed modules, which extend and add to Drupal's capabilities
Large community of passionate supporters, in Minnesota, across the U.S. and worldwide.
Minneapolis is home to many Drupal developers, users, and user groups!

Visit https://www.drupal.org where you can view our company profile