Project description
Minneapolis College (formerly Minneapolis Community and Technical College, or MCTC) is a large community college in downtown Minneapolis.
With over 10,000 students annually, MCTC is a prominent fixture of downtown, as well as an important resource to area residents since 1965.
The school's website had outlived its usefulness, and a redesign was called for in 2017. The full rebuild and redesign included implementing a new branding direction, migrating to an open-source CMS (Drupal), a responsive design for mobile users and accessible content.
Paragraphs
MCTC reached out to our team based on our previous work in higher education. Having worked with several area colleges and universities, such as Century College and the University of Minnesota, we were a natural fit and partner for the job of redesigning a college website.
We brought our experience to work across the entire project, including planning, content strategy, copywriting, UX and UI design and web development.
Planning for Migration
We began by cataloging and analyzing over a dozen existing websites and applications in use, and strategizing on how to best transition content and features to the new site. The primary website was built in Sitecore, and we begin to map how we could migrate key functionality into a new content management system (Drupal 8). 
Our team conducted an audit of existing pages to identify unique features that would require special attention in the migration, and discuss how to best handle each "special snowflake."
Defining Goals and Outcomes
Every project should have clearly defined goals and outcomes (KPIs) to guide decision at every future phase of the redesign. 
We conducted extensive stakeholder interviews with members of the MCTC community, including teaching faculty, students, advocacy groups, admissions team, community education, and college administration. 
Our team reviewed site analytics, comparing traffic to similar institutions. We crafted a content strategy for the redesign, making recommendations on key landing pages, conducting inventory of existing content, and defining important content types and features moving forward.
Primary goals included supporting the existing student body with a stronger sense of community, implementing a new and stronger branding, and working to declutter site navigation and page content.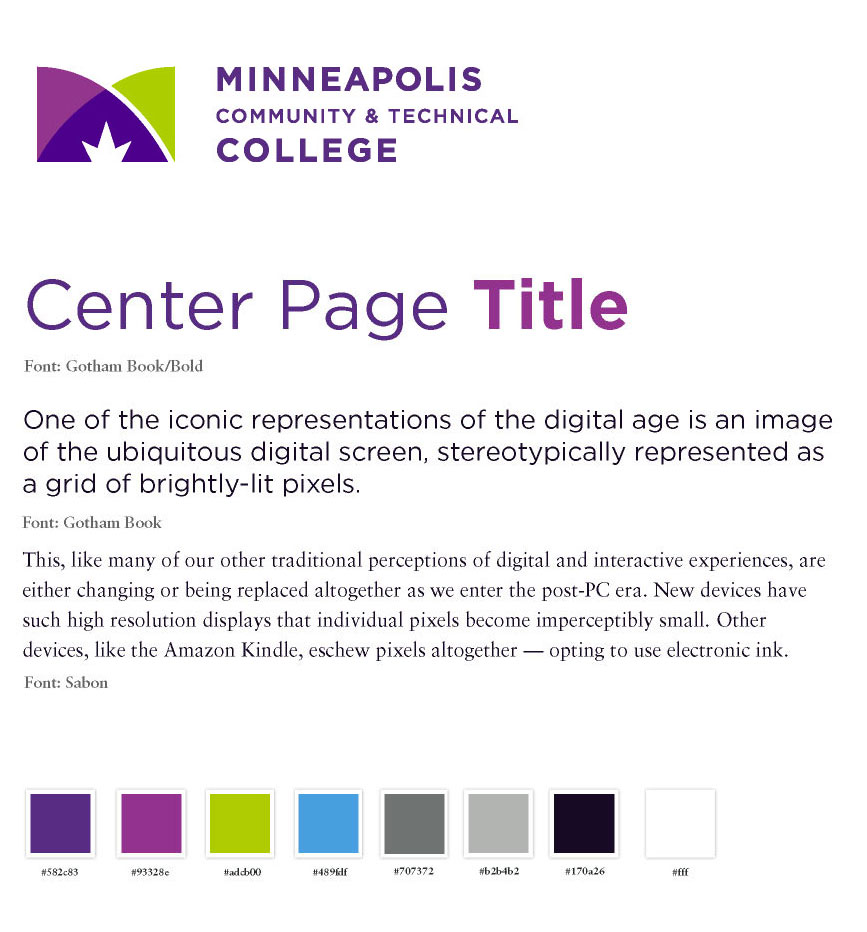 At the same time we were working on the site migration and redesign, MCTC was working with another agency on an extensive rebranding project.
Coming out of that effort was a new name (Minneapolis College) and logo. The branding agency provided a wonderful new logo and branding guidelines, but it fell to our team to interpret the new brand in a website.
Building off print samples, we designed introduced some shapes and swooshes into the new website redesign, incorporated the new palette of secondary colors, fonts and image styles. 
Translating a brand from the printed page to a website isn't always intuitive, but we pushed to capture the spirit of the redesign in a flexible medium such as the Internet.