Client
Client
American Swedish Institute
Project description
The American Swedish Institute (ASI) is an iconic Twin Cities museum, and an important part of Minnesota's rich Scandinavian history.
While the historic Turnblad mansion has been a primary attraction of the museum for many years, museum staff wanted to increase public awareness of the many other attractions they offer–art exhibits, classes, workshops, and social events, along with a popular cafe and store.
Paragraphs
Electric Citizen last redesigned the site in 2011, and it was a time for a full redesign. Working with ASI's team, we decided to focus on improving the site calendar while emphasizing different events throughout the site. Users were encouraged to click around and explore exhibits, permanent collections, and information about the museum.
The social aspect of the museum is reflected in a new photo wall on the homepage. "See Yourself at ASI" is an opportunity for guests to see events they may have attended or discover what's coming up next.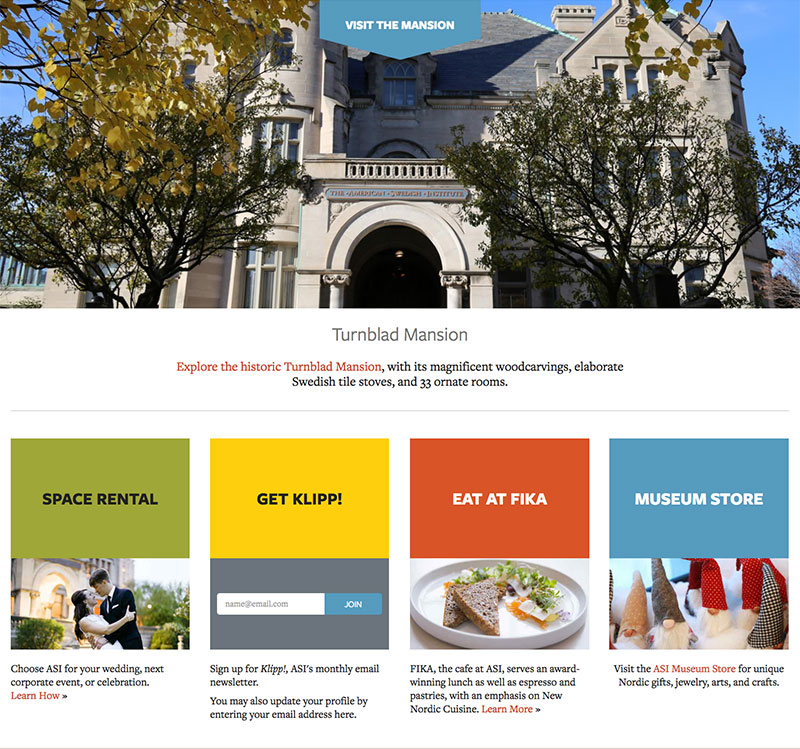 About the Design
ASI is a rich source of inspiration for design, from the architecture of the buildings to its deep Scandinavian heritage. Building on these, as well as existing print and marketing materials, we created a new look for the site.
The angles of the building are reflected in the shape of various page elements, such as the top navigation and callout buttons.
Bold warm colors from ASI's brand identity are used to accent callouts with a sense of fun, while the exhibit pages are designed to highlight the artwork through a minimalist color palette.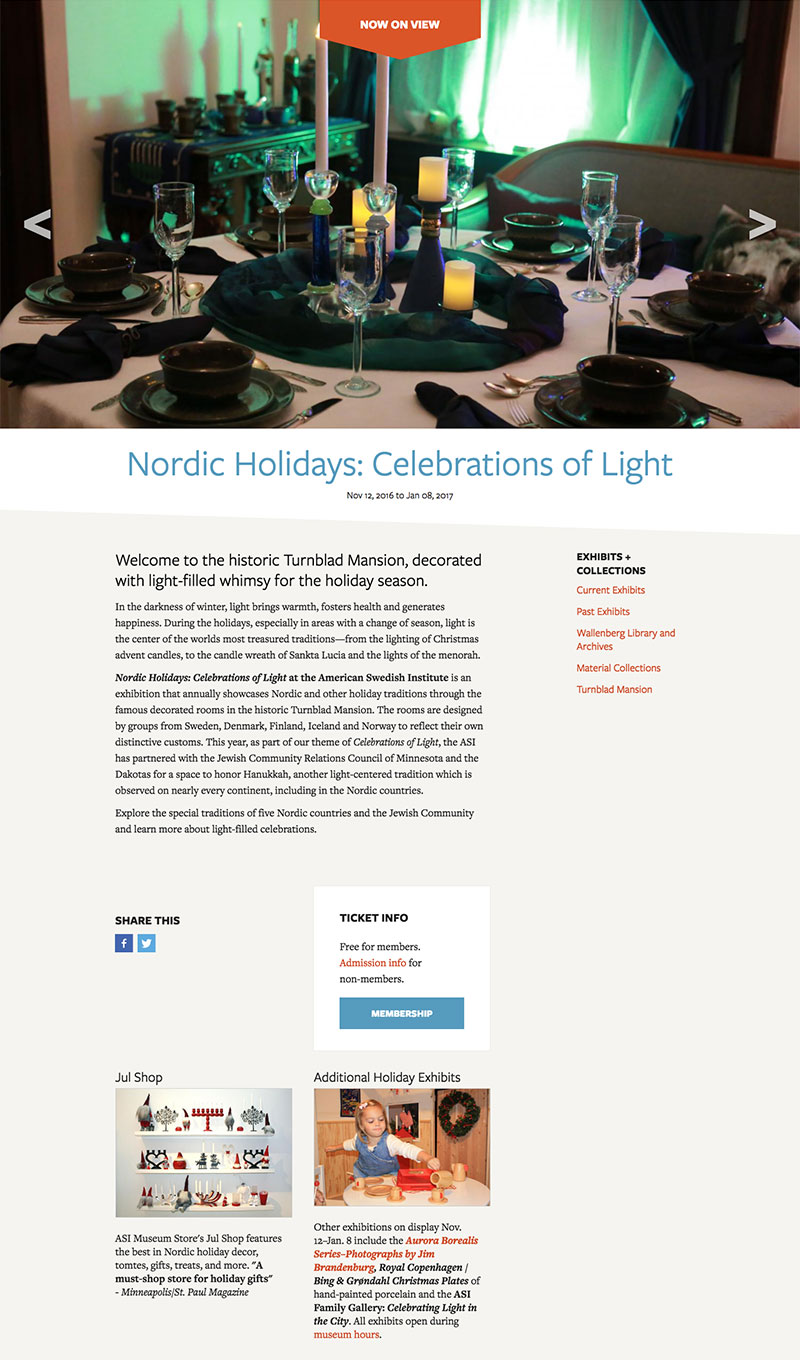 See Yourself
The Swedish Institute would like to continue to expand its audience to a wider-range of people, and continue as a vibrant cultural institution for years to come. We suggested a social wall for the homepage where social events could be highlighted through photography–letting people "see themselves" in the events, either literally (they attended) or figuratively (see their peers).
Audience-sourced images from social media could potentially be used here as well, as another means of encouraging participation and adding a level of authenticity to the subject matter. This is one of many features that will be tested and modified over time.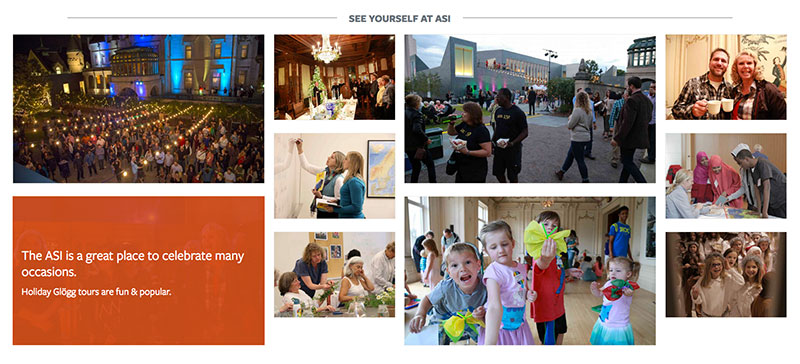 Calendar and Upcoming Events
The new calendar offers several new features. A quick "at-a-glance" section near the top highlights events happening today or this week, to help guests plan their visit. Sold-out events have a clear marker, while remaining visible so users can get a sense of what's going on. A mini-calendar highlights the days with events planned, while the larger calendar allows users to browse through each month or filter results by certain keywords.
On the homepage and a few other key pages of the site are "upcoming events" callouts, with a slider to view multiple results. The goal is to highlight the museum's many offerings and encourage participation.