Project description
Century College is the largest school in the MNSCU system (Minnesota State Colleges and Universities System).
Their website design and messaging had grown stale, and failed to account for their increasingly mobile-based audience.
Paragraphs
In the beginning, Century intended to rebuild the site internally and hired Electric Citizen for solely technical consulting. The decision had already been made to move the site to Drupal as their content management system, and a design direction had been established. Our team began advising Century staff on best practices working with Drupal, and how to approach various components and requirements of the new site.
But after some initial planning and discussions, the project changed. Technical demands and a short timeline meant a lot work needed to take place in a relatively short amount of time, and Century staff would be better served focusing on content creation. Our team was asked to step into a lead role instead, and we began building out all aspects of the new site.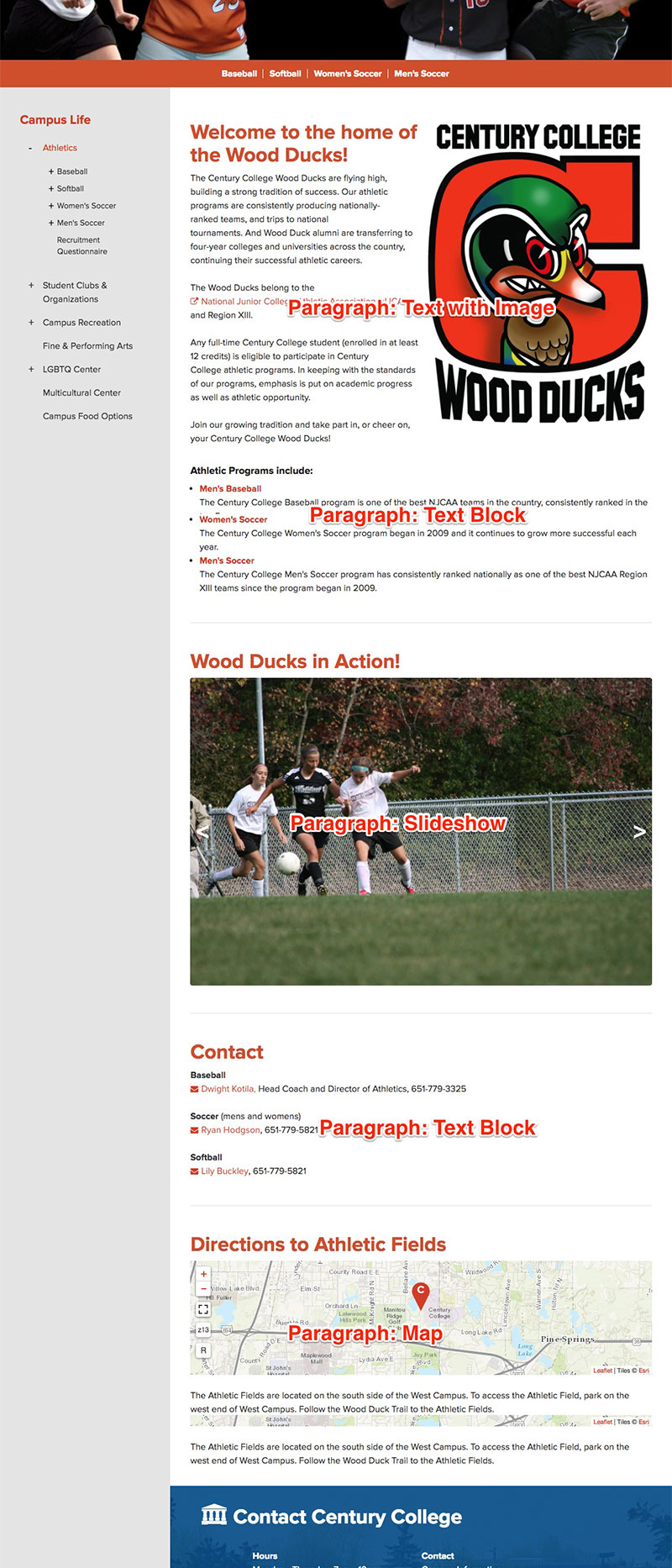 One of the things we strive for in each project is a better editing experience. We want editors to feel empowered to manage content in modern web design, without requiring much technical know-how. Our normal site editing tools were in place here, with a simple UI for changing layouts and the creation and placement of various custom widgets (e.g. "insert image, add table, add pullquote, etc.").
With Century, we also introduced the Paragraphs module, allowing editors to easily create content in a series of distinct "pieces", each with their own custom fields, styles and abilities, with tools to easily sort each piece in whatever order desired on the page.
For example, editors can add slideshow of 4 different images, followed by a quote with an image background, an embedded video player, and a series of content "accordions", where information can be expanded and contracted.
Working with EC was one of the best decisions we made regarding the redesign
Meg Hatalla, Web Presence Manager
Data is everywhere, not just on your website. We recognize this and frequently work with clients on easy-to-use data importers, bringing content from outside systems to your web pages.
For Century, all program listings, available disciplines and staff directories were imported to Drupal, where the content could be sorted and customized as needed.
A site only has value if it provides what users are looking for. A robust search engine can help you visitors on their way.
For this project, we implemented Apache Solr faceted search, so the best search results would be available. With real-time indexing and rich document handling (Word, PDF, etc.), Solr outperforms the basic site search included on a CMS.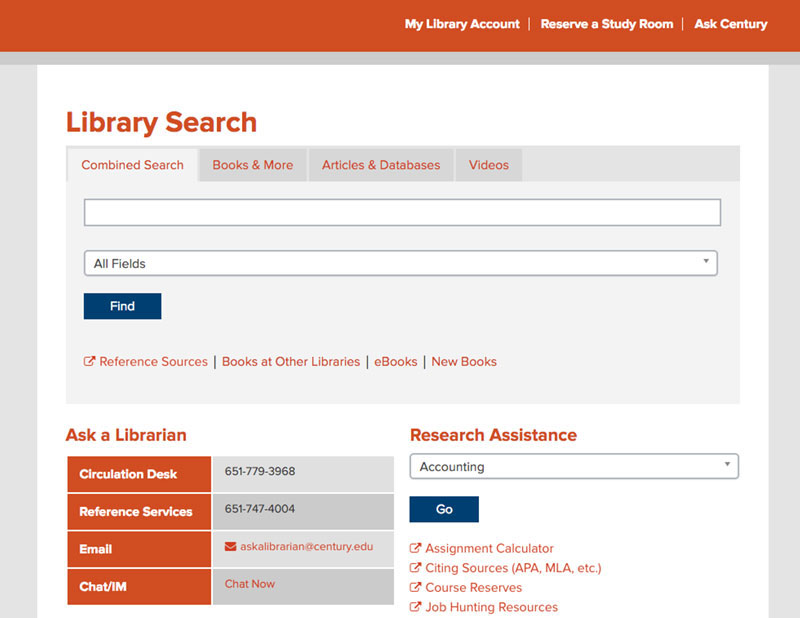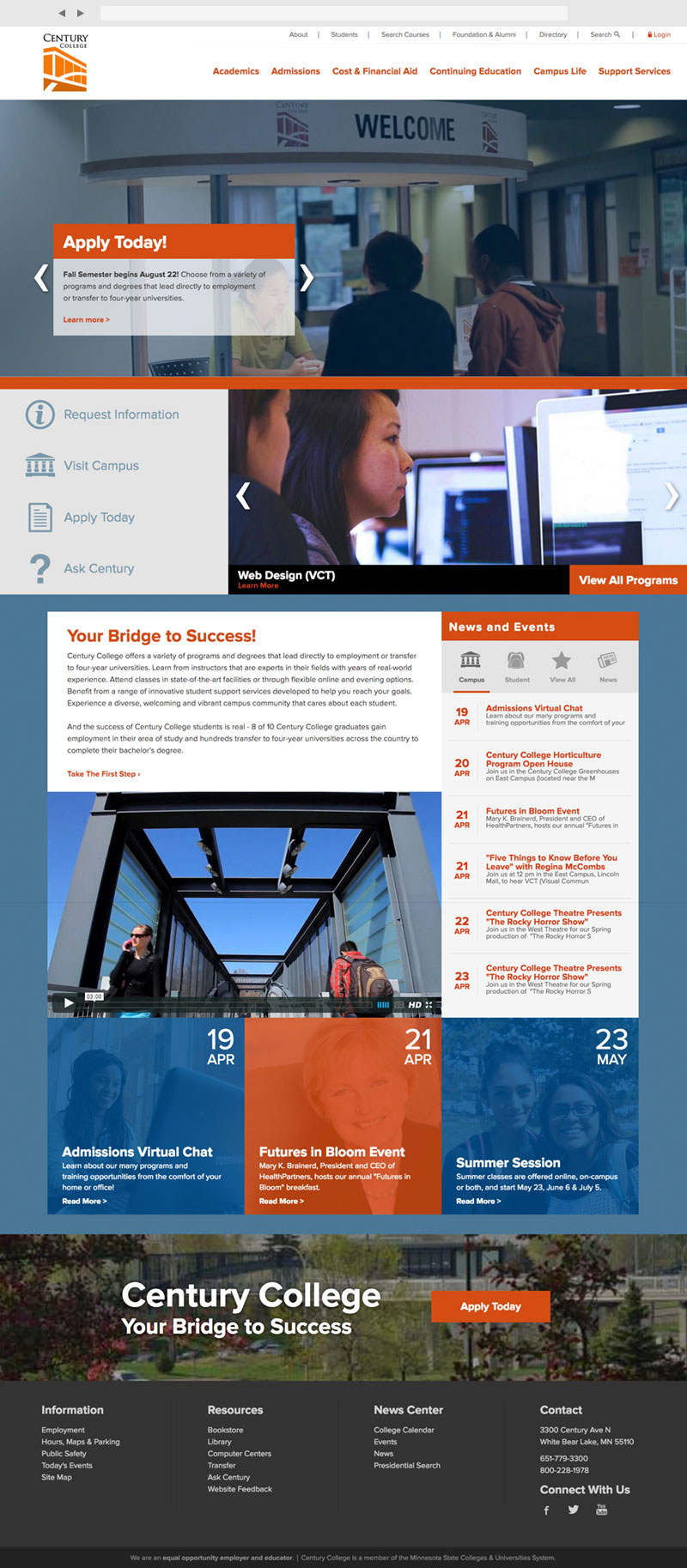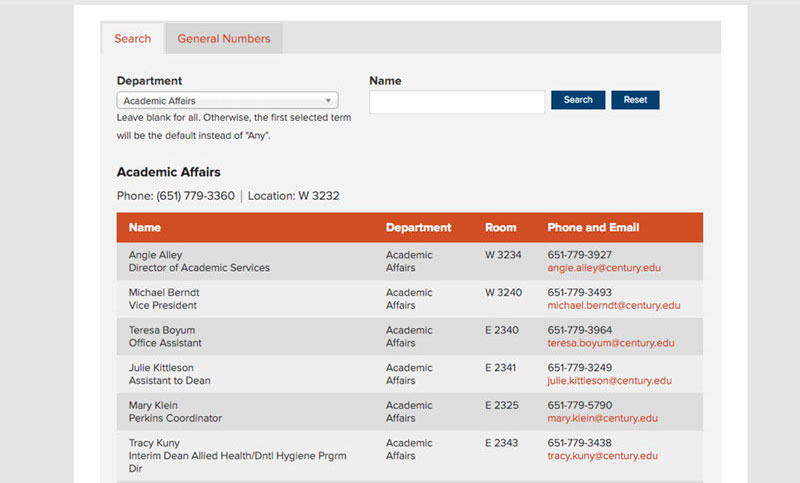 Century College received positive feedback from the community on their new website, and increased traffic as well.