Title
Introducing DrupalCon Global
Body
DrupalCon North America is an annual tradition, where thousands of people come together in a great American city for a week-long conference of learning, networking and socializing.
Things are different this year, for obvious reasons. But DrupalCon lives on in DrupalCon Global! This is the first-ever virtual edition of DrupalCon. Running from July 14-17, 2020, this online-only conference is open to anyone and everyone, worldwide. If you haven't done so, consider registering today!
Paragraphs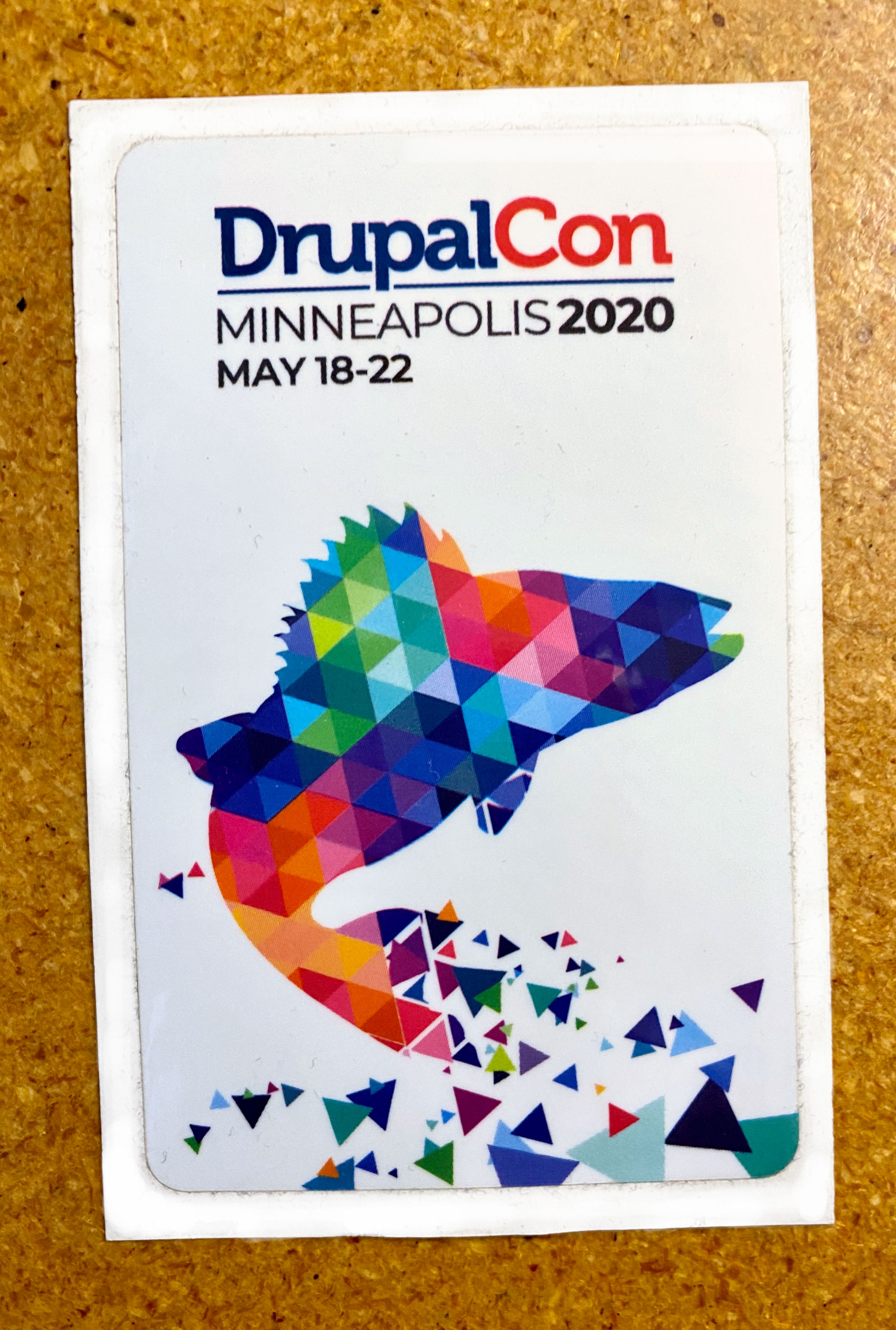 Here at Electric Citizen, we've spent the past two years anticipating the excitement of DrupalCon Minneapolis.
2020 was scheduled to be the year for the first-ever DrupalCon held in our hometown. I even had the privilege of making the public announcement at DrupalCon Nashville. We talked about which restaurants and bars to recommend. Locations for great parties. Key sites to see. We even had a DrupalCon logo with a Minnesota walleye!
But then, of course, the pandemic shut that down. We won't be meeting in-person again for quite some time. Big sad. But moving to an online conference isn't just flipping a switch. It has never been done before. There was already so much planning, volunteering, spending, and other work, and now that had to all be cast aside. It was like starting over.
The whole experience was very disheartening. Cancelling DrupalCon was definitely on the table. But what about all the sessions we had planned? What about learning new things? People are still longing for connection, perhaps now more than ever.
Not having the Con wouldn't just hurt the community, however. The nonprofit Drupal Association depended on annual DrupalCon revenue to finance itself and was facing a massive budget deficit, even if it did host a virtual conference. What to do?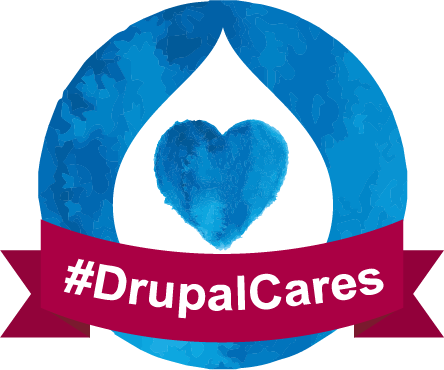 Fortunately, the Drupal community came to rescue. Thanks to donations from dozens of agencies and hundreds of individuals (including EC), we were able to quickly raise enough funds to fill the budget gap. And thanks to a herculean effort, the Drupal Association did a massive pivot to plan the first-ever virtual conference, DrupalCon Global. Not only would we still meet, but we would try to recreate the full DrupalCon experience online. Amazing!
There are still 3 days filled with session content. Important keynote speakers (including a DriesNote). Daylong summits for groups such as government, higher education, and nonprofits. The chance to chat and visit with other attendees. Even trivia!
Of course, nothing (in my opinion) replaces the in-person experience, but for what I've seen so far, this is going to be a very well run conference and something to get excited about.

DrupalCon Global will rely on the Hopin platform to host the conference. This software, new to me and most people I've talked to, will be used to facilitate all conference activities.
Anyone can register for a free HopIn account. If you don't have one, go get one today. From there, you can use your new account to join online events. Registered attendees will receive an invite to join the DrupalCon Global event on HopIn. 
Session Content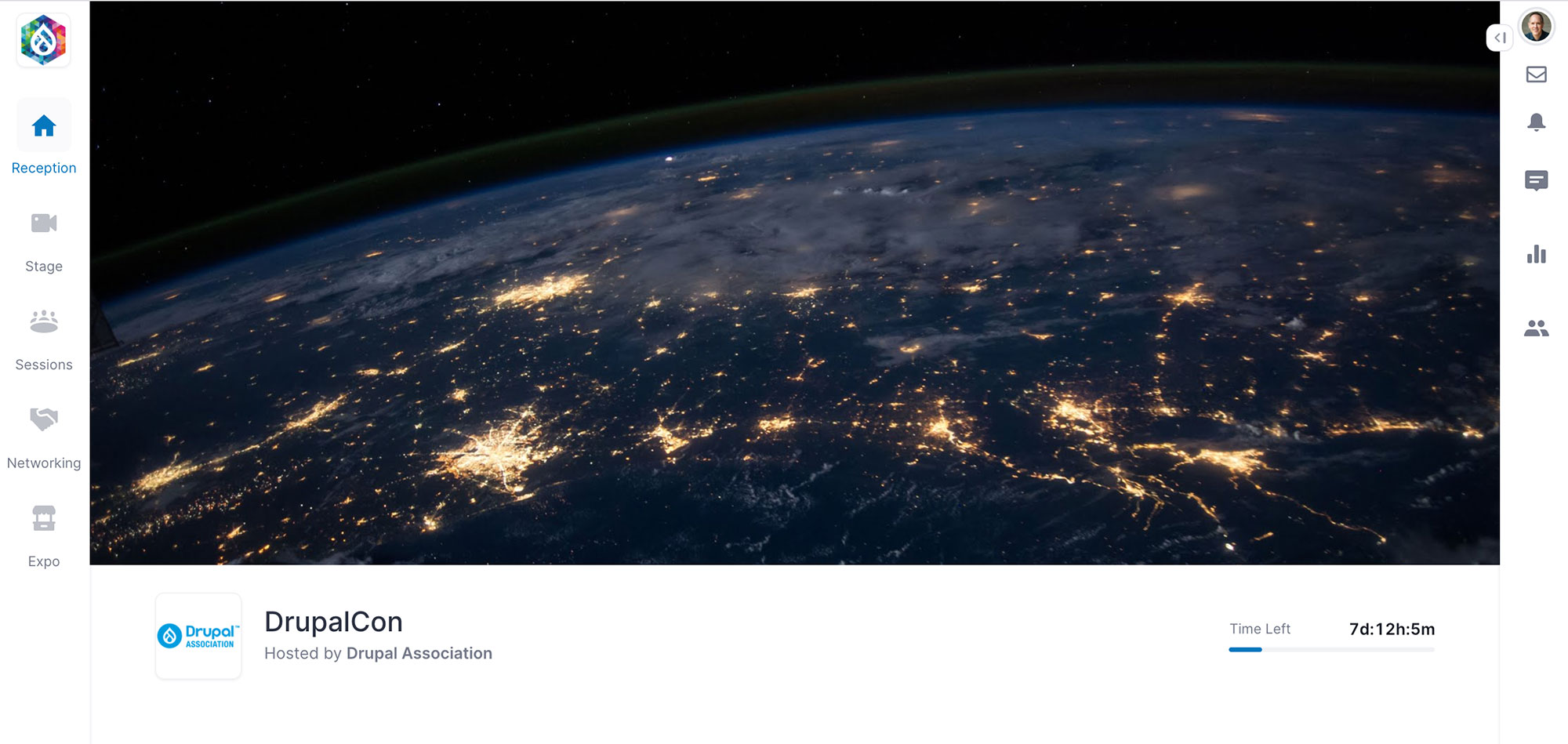 The interface will look something like this image (this is just a sample). The landing page lets you know you are at the right event, and lists dates and times of the schedule.
Look at the sidebar buttons. Like the in-person experience, there will be a main Stage area where you will go to watch the scheduled keynotes. There will be a schedule of Sessions. At the scheduled time, users can click to "enter" a session, where they will then watch a presentation and have a chance to interact with the speakers.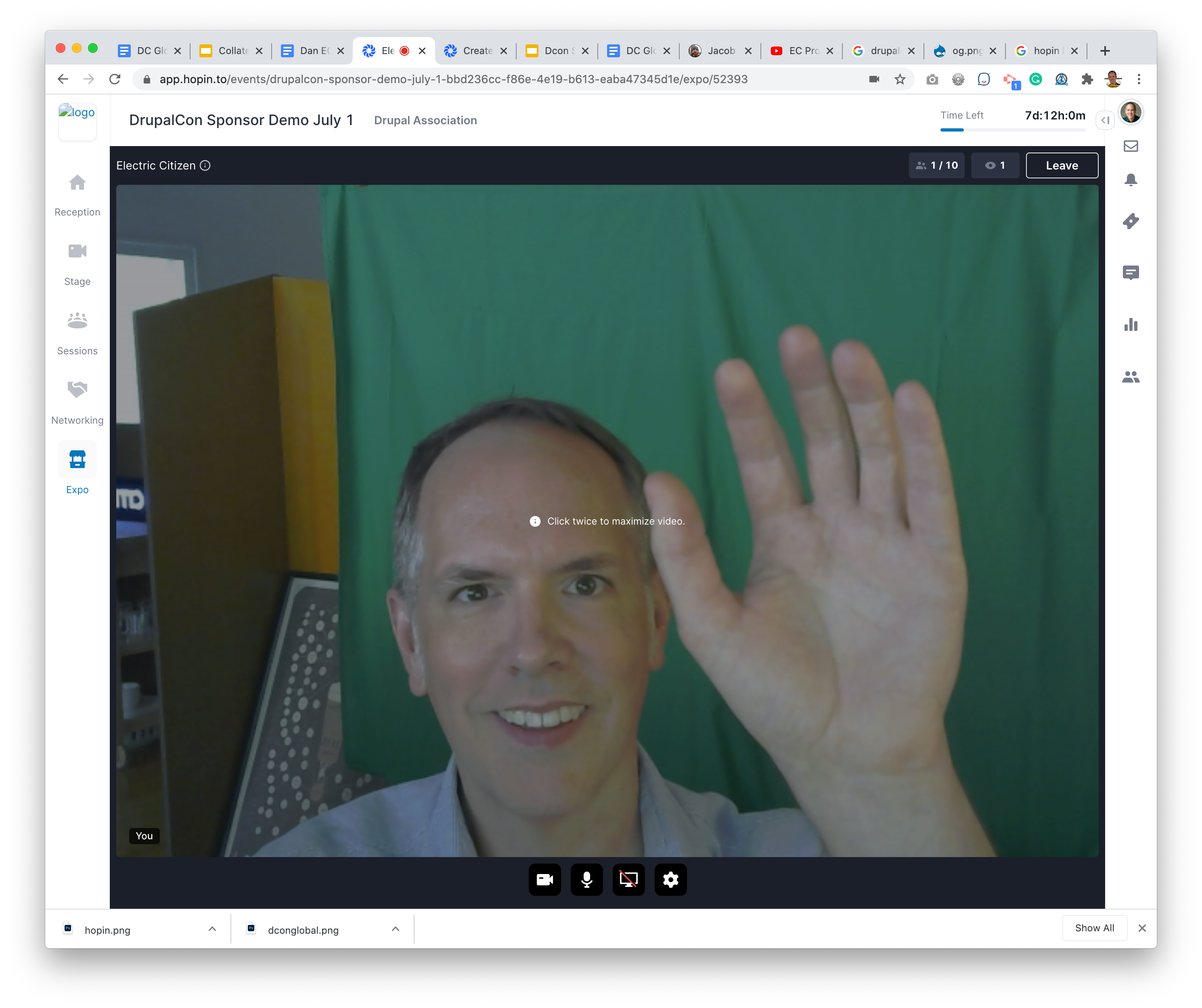 All speakers will have a video feed of themselves and the ability to share a slideshow of their presentation. Multiple speakers can join if needed. As a user, you will watch anonymously, but have the ability to pose questions in an online chat. And speakers will have the ability, if desired, to let attendees verbally ask questions as well, through video chat. 
Sponsors
Replacing the exhibit hall will be the new Expo section. All sponsors will have virtual booths available that, like sessions, attendees can visit and explore. At select times of the conference, booths will be "live," where sponsors have the option to be on video chat, conducting presentations or demos. If you've been to a DrupalCon in-person, this may seem familiar.

As with sessions, visitors are anonymous until they decide to initiate a conversation. At that point, you could have an online chat with a vendor, or even switch over to a private channel for a video call. It seems to be a comfortable, non-intrusive way to have contact online.
Networking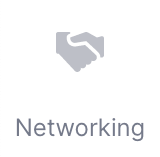 Speaking of contact, one of the more interesting features of the conference site is the "Networking" tool. Meeting online means fewer opportunities to randomly run into someone and strike up a conversation. Networking is a way to try and duplicate this experience.
If you want to try, you'll click the Networking button. Hopin will attempt to pair you with a random attendee. You will then be in a video conference call with this person for however long you like (or maybe it's 5 minutes max?). Introduce yourself, do the usual "what do you do" and "where are you from" questions, and see if you have anything in common. Is it less scary than doing it in person, or more? Hard to say, but I'll give it a try.
Video Preview
The Drupal Association released this video as well, demonstrating the "attendee experience"
Speakers
When DrupalCon moved online, they had to trim the number of accepted sessions by 60%. But two of our Citizens will still be presenting "live."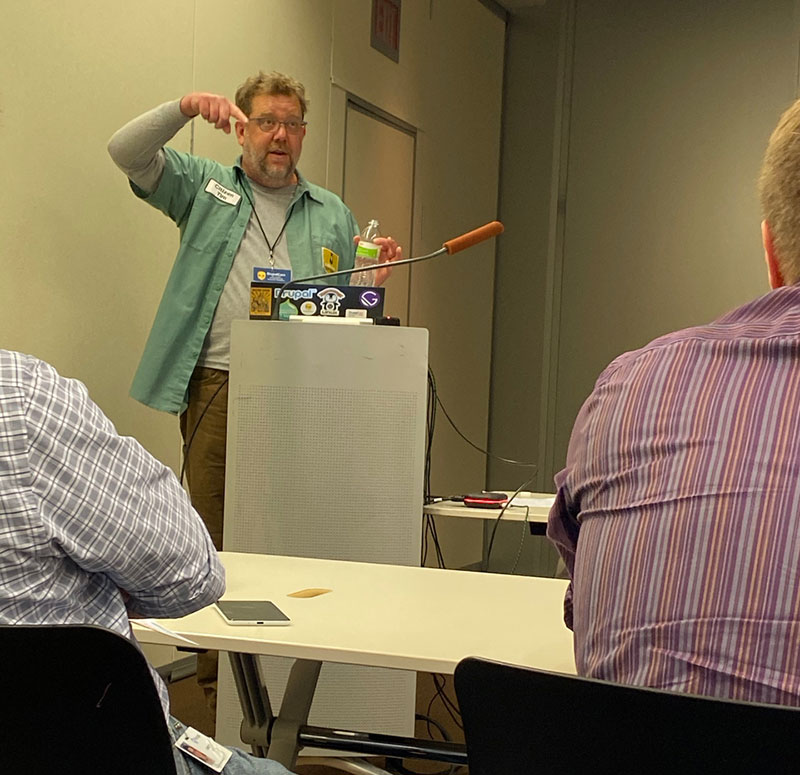 Look for me, Citizen Dan, to be presenting on the "Battle for Online Privacy", Wednesday 7/15 at 5:15pm CST. This will be my third time presenting on the topic, but I've done a series of updates this time around, and I'm looking forward to sharing what I've learned.
Citizen Tim will be presenting "JavaScript is Coming to Eat You", Tuesday 7/14 at 1:15pm CST. Tim has presented at previous DrupalCons and given this latest talk at a number of regional conferences. It's a fantastic overview of how JavaScript frameworks have overtaken the Web, and a look at what the future of website building holds for all of us.
Sponsors
As we've done for the past several years, Electric Citizen is proud to be an official sponsor of DrupalCon. Without a physical booth to hold, we'll be online in the Expo center, ready to talk to anyone who wants about our agency and what we offer. Stop by our booth! We're not planning any online demos, but will have a fun, short video about EC. And we'll have our Citizens standing by, ready to chat and answer your questions.
We don't know what to expect, to be honest. But we're going to give it a shot, and would love to connect with you.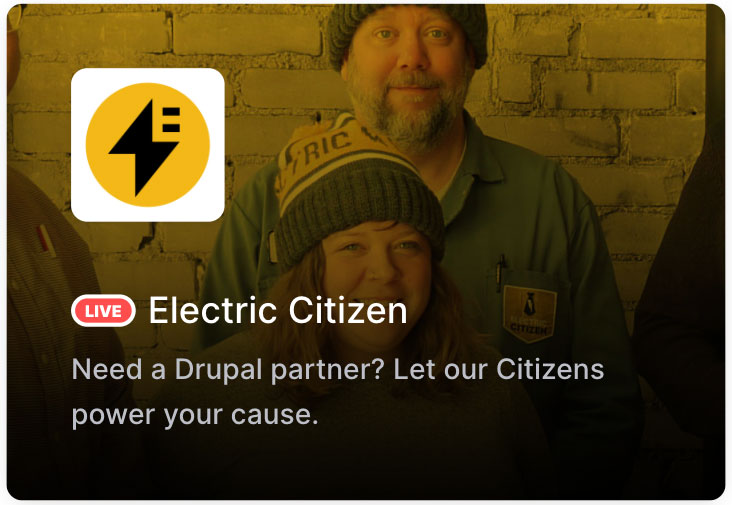 Attendees
Our team is looking forward to participating as attendees as well! We typically try to send the whole team to DrupalCon and this year is no different. Look for our Citizens attending sessions, joining online games, and chatting in the online forums. Who knows, maybe you'll run into one of us in the Networking tool! Some of us are pretty shy, though, so I can't really say for sure.
Hope you can make it!